Services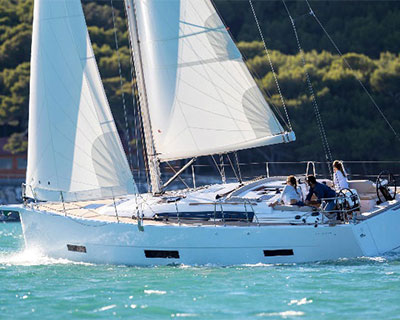 Hilton Head is a small but renowned barrier island home to some of the South's best restaurants, golf courses, wilderness areas, and more. The mild winter season is enchanting despite the slightly lower temperatures. Visit one of the many historical sites to learn about Hilton Head's important role in the region's development, go fishing, kayaking, or cruising with one of the local top-notch tour operators, or enjoy the island's beautiful beaches. Finally, when the sun sets over it all, relax at one of the island's acclaimed eateries, vineyards, or distilleries. Hilton Head is just 45 minutes from Savannah and Beaufort, and it has a wide variety of exciting autumn activities. Our website gives you all the information you need to create the perfect vacation itinerary or visit the island and go with the flow. Whether you need details regarding traveling to Hilton Head, staying at one of its beautiful hotels or resorts, or eating out and having fun, you are at the right place.
Sailing and Water Activities
Hilton Head is an exceptional destination for water activities, providing various options to suit everyone's interests. Enjoy the refreshing sea breeze during an exhilarating sailing excursion or relish the romantic ambiance of a sunset sail to conclude a delightful vacation day. You can come up close and personal with wild dolphins, birds, stingrays, and manatees with a motorboat, kayak, or sailboat. For those seeking adventure, try the thrilling experience of parasailing or the exhilaration of speeding across the water. Hilton Head caters to all preferences. To book your preferred sailing adventure and schedule, visit the Anchor's Away website, accessible from this page. You'll discover the ideal sails and relish your time on the water. Anchors Away Sailing Charters is the only company in the area that rents out bareboat and provides half-day and full-day sailing charters. Choose from their various sailing packages to enjoy some leisurely moments in the exhilarating environs of Hilton Head. Read More About Sailing and Water Activities >>
Sports and Recreation
Hilton Head is the ultimate destination for sports and recreation enthusiasts. With over 50 miles of biking trails, hard and flat-packed beaches, parks, playgrounds, skate parks, tennis and pickleball courts, and over 23 meticulously designed championship golf courses, the island has something for everyone. Moreover, visitors can rent bikes, kayaks, and jet skis and enjoy dolphin and nature cruises, helicopter tours, parasailing, fishing, and crabbing, zipline and rope courses, indoor recreation centers, and fitness parks. We understand that researching and planning activities can be time-consuming and challenging, so we're here to guide you to the best of the best. Keep checking back with us as we build out this page to include all the top activities, ensuring you have a memorable vacation without any stress. Find all the information you need on this page, including a locator link to help you quickly find the places you want to visit. Read More About Sports and Recreation >>
Fishing
Fishing charters in Hilton Head range from those that focus on coastal areas like streams and hidden island fishing holes to those that take you to sea in search of large, thrilling, sporting fish. Our site is an excellent resource for figuring out where to go fishing on the island. Because Hilton Head Island has such a healthy ecosystem consisting of salt marsh, oyster beds, and pluff mud, fish are abundant. This opens up many great possibilities for going out and catching fish. Whichever kind of adventure you're after, you can find it here. We provide a wide variety of shark fishing options, including Spanish and king mackerel, cobia, black sea bass, redfish, amberjack, tiger shark, black tip, hammerhead, and great white. If you're looking for more details on the best fishing opportunities in Hilton Head, you will find the details you are looking for here. Read More About Fishing >>
Restaurants
Hilton Head is the ideal holiday destination because it offers both relaxing pursuits and exciting experiences. Sports fans, anglers, and those seeking other forms of outdoor activity will not be disappointed. But that's not the end of the fun! Hilton Head boasts a wide variety of restaurants and cafes serving various cuisines. This page is meant to assist you in locating the finest dining establishments, whether you're looking for a quick lunch, a family meal, or a romantic dinner. There is a wide variety of places to eat, from mom-and-pop joints to chain eateries, where you can get anything from seafood to BBQ to sandwiches and more. We're here to help you find the perfect restaurant in Hilton Head, regardless of your tastes. The information you get here will help you get to the best food places on the island without conducting too much research. That adds to the leisure and fun experience at Hilton Head. Read More About Restaurants >>
Beaches
Hilton Head is known for its miles of pristine, hard-packed beaches. The beaches themselves are accessible to the public. However, private parking and entry options are available. Hilton Head has a tide that rises and falls by an average of 6-8 feet every 6+ hours and is the second largest island on the East Coast. The beaches are stunning, and because of the tide range, they are hard-packed, making them ideal for bicycling, running, beach sports, or whatever else you want to do on the beach. We give you all the information you need to travel to the beaches easily, including when they are open and where they are located on a map. Rules and regulations are outlined, and resources for protecting sea turtles are provided. In short, you'll be able to find all the information you require to decide which local beaches to visit. We aim to make it easier for visitors, tourists, and vacationers to Hilton Head to acquire relevant information. Read More About Beaches >>
Hilton Head Parks and Playgrounds
Parks, playgrounds, and other exciting places to spend free time can be found all over Hilton Head, making it an excellent destination for nature lovers. Everyone has options, whether you want to have a picnic, play some sports, or take a stroll. Everything you need to know about these parks and playgrounds is on this page. The locator link can also be used to quickly and easily find the locations of interest. These open areas are beautiful places for anyone visiting or living on the island to relax and take in the island's stunning scenery. The parks and playgrounds in Hilton Head, South Carolina, offer shady picnic spots to cutting-edge playground equipment. Our website is a treasure house of information, so your visit to Hilton Head is as enjoyable as possible, and you don't have to work hard to find the information you need. Read More About Hilton Head Parks and Playgrounds >>
As you can see, Hilton Head is the ultimate vacation destination that caters to all your needs. Whether you want relaxation or adventure, this island has everything to offer. From stunning beaches, impressive parks, and playgrounds to many sports and recreational activities like biking, hiking, fishing, kayaking, golfing, and more. The island is also home to many dining options, including seafood, barbecue, sandwiches, and international cuisine. You can rent bikes, kayaks, and other equipment to explore the island or go on a guided tour to see the local wildlife. A range of man-made attractions like art galleries, museums, and theaters also complements Hilton Head's natural beauty. With so much to see and do, Hilton Head is undoubtedly the perfect vacation destination for you and your loved ones. For more information on local restaurants, beaches, playgrounds, parks, sailing and water activities, please call The Best Of Hilton Head at 843-855-1039. You can also send us your queries through this Online Form.